This page describes an older version of the product. The latest stable version is 16.4.
Dump
---
You can generate a dump file that includes information about the runtime GigaSpaces environment for a specific host or across the entire environment.
Start the WEB-UI, under the Generate Dump tab select the relevant option:

This can be done for all hosts, all hosts but only information on GSCs, or just an overview. For a specific host, you can click the tool-box icon.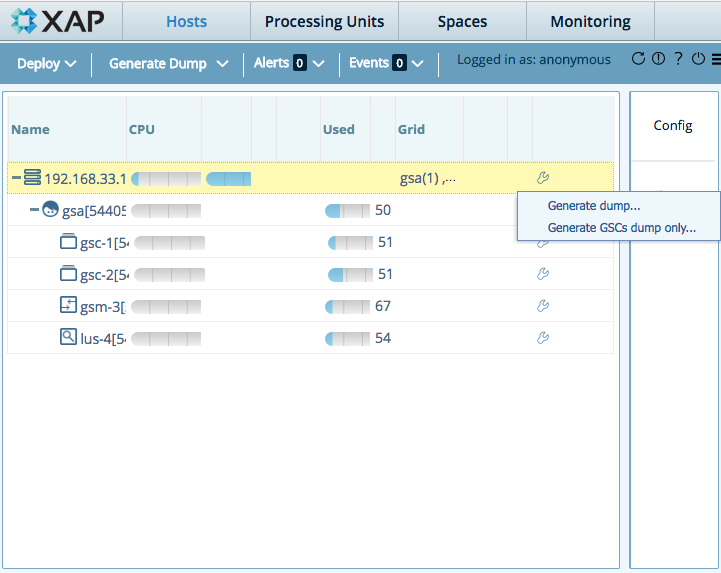 Specific GSC dump: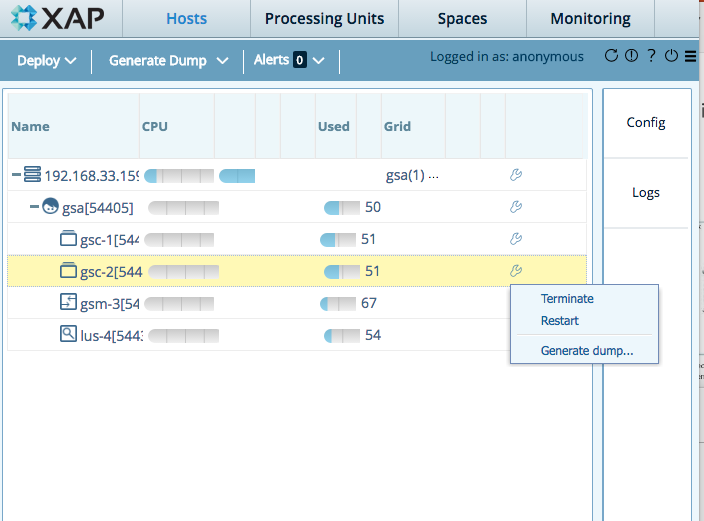 Any of the above will display the following dialog: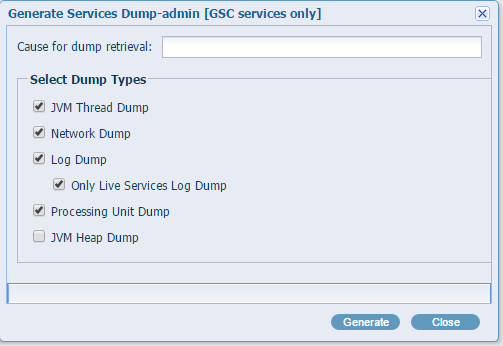 Select the desired options and click the Generate button.
The "JVM Heap Dump" option determines wether a JVM heap dump should be generated for the JVMs. It is recommended to choose this only on a specific host or GSC that a Java heap dump should be generated for.
The "Only Live Services Log Dump" determines if dump should include only services which are currently running, or also services which have been terminated (useful for trouble-shooting failover scenarios)
Generate Overview
The "Generate Overview" will provide general information on the system deployment. This information is useful to quickly gather the system settings in production, for example when reporting a support case.
When clicking on the Generate Overview option: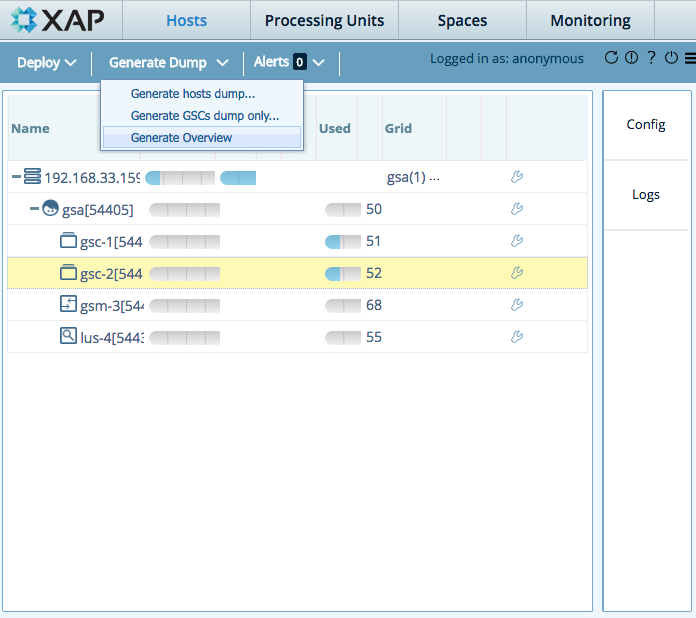 This will download a zip file containig an overview.txt file directly to the downloads folder. The dump overview structure will look like this:
Overview
    Time        2016-09-18 14:05:16.101
    XAP version ENTERPRISE
    Client      License Version=12;Type=type;Customer=customer;Expiration=never;Hash=hash
    Number of Machines 1
    Grid Components GSA(1), LUS(1), GSM(1), GSC(2), ESM(0)

Processing Units (none)

Hosts
    192.168.33.159[192.168.33.159] Cores [4]
        JVM Version Oracle Corporation Java HotSpot(TM) 64-Bit Server VM 1.8.0_71
        Utilization cpu[7.5%] memory[11GB (66%)] 
        GSA(1), LUS(1), GSM(1), GSC(2), ESM(0)
        GSCs
            GSC[54416] Heap: Init[512MB], Max[491MB], Used[82MB], Committed[491MB]
            GSC[54419] Heap: Init[512MB], Max[491MB], Used[98MB], Committed[491MB]
...


Dump File Structure
The dump file structure would look like this:
dump_file.zip

    gsa-10.10.10.249-23610--1284928573201
        network.txt
        summary.txt
        threads.txt
        logs
            2010-09-19~08.22-gigaspaces-gsa-10.10.10.249-23610.log

    gsc-10.10.10.249-23739--1284928573169
        network.txt
        summary.txt
        threads.txt
        logs
            2010-09-19~08.22-gigaspaces-gsc_1-10.10.10.249-23739.log
        processing-units
            space
                1
                    pu.xml
                    spaces
                        space
                            summary.txt

    gsc-10.10.10.249-23766--1284928573079
        network.txt
        summary.txt
        threads.txt
        logs
            2010-09-19~08.22-gigaspaces-gsc_2-10.10.10.249-23766.log
        processing-units
            mirror
                1
                    pu.xml
                    spaces
                        mirror
                            summary.txt
            space
                1_1
                    pu.xml
                    spaces
                        space
                            summary.txt

    gsm-10.10.10.249-24112--1284928573193
        network.txt
        summary.txt
        threads.txt
        logs
            2010-09-19~08.22-gigaspaces-gsm_3-10.10.10.249-24112.log
    lus-10.10.10.249-24127--1284928573201
        network.txt
        summary.txt
        threads.txt
        logs
            2010-09-19~08.22-gigaspaces-lus_4-10.10.10.249-24127.log